CANCELED – Clean Comedy Time Showcase at Transformation Life Church Featuring Brian Atkinson on Saturday, April 18.
Clean Comedy Time is funny and free from profanity and graphic sexual descriptions.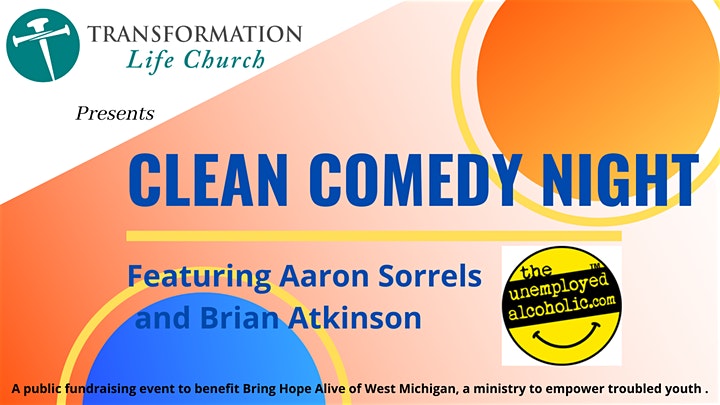 Transformation Life Church
2620 McLaughlin Avenue
Muskegon, MI 49442
7:00pm Showtime!
Open to the public – Tickets are $10 each when you buy 2 or more.
A night of clean comedy that will lighten your soul. Laughter is good medicine, so join us for a night of fun, fellowship and partnership!
Transformation Life Church is hosting a night of comedy featuring Aaron Sorrels (the unemployed alcoholic) and Brian Atkinson. This will be a night we combine laughter and motivation to lighten the weight of life for all those in attendance and raise funds for "Bring Hope Alive of West Michigan." Help us lighten the load on area teens facing difficult times.
Join us and laugh with purpose!
Learn more about Clean Comedy Time.