Brian Atkinson performs at A Lot More Fun Comedy Club in Downtown Lansing on Friday, December 1, with special guest, Kim Cook.
A Lot More Fun Comedy Club
We are honored to be the first completely clean comedy club in Michigan! Our mission is to provide a safe place for adults, teenagers, and older kids to laugh their rears off together! We don't believe that comedy has to have bad language, be suggestive, or have racial or raunchy jokes to be ridiculously funny. Now, having said that, the jokes will have an edge to them, and you might be offended by something, but we won't say or do anything that would make you blush in front of your teenage daughter, or give you something that you have to explain to your son on the way home!
Brian Atkinson
Brian Atkinson is a comedian, an all-around nice guy, and a horrible person. His guy next door look gives way to surprising twists – like when he provided voices for PBS Kids and acted in a Lifetime Movie Network movie, as a serial killer, in the same studio, on the same day. His voice might be the first thing you notice, but his confidence, and engaging storytelling will keep you laughing. Brian Atkinson makes jokes, but only the finest artisan, hand-crafted, farm-to-table-saw jokes.
With Special Guest, Kim Cook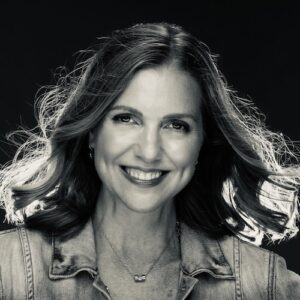 Kim Cook is a quick witted southerner who now resides in Grand Rapids, Michigan. She also has the last name of something she does not do well. Kim loves discussing her British husband, being a dog mom and topical events. She is a Second City alum and has performed at Zanies, Coral Gables Comedy Club, Gilda's LaughFest, Plano Comedy Festival, The Annoyance Theatre, The Comedy Arena and Hyena's Comedy Club to name a few.
Brian Atkinson is a Comedian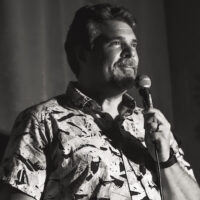 Brian Atkinson
Brian is a 2023 World Series of Comedy Wildcard 1st Place Winner and has headlined at clubs, corporate events, churches, and fundraisers across the country. He's opened for notable "Bobs" like Bob Nelson, Bob Smiley, and Robert (Bob) G. Lee, and performed at Dr. Grins at the B.O.B. Brian has also appeared with Jeff Jena, Kira Soltanovich, Happy Cole, Leslie Norris Townsend, Tommy Ryman, Chris Young, Andy Beningo, and Dave Williamson. Born and raised in Chicagoland, Brian won the Audience Favorite in The Funniest Person in Grand Rapids, MI, where he now calls home.
Brian's sharp and smart comedic style has been a hit at clubs, contests, corporate events, churches, fundraisers, and festivals across the country. He has a hilarious professional touch that's a perfect fit – without being offensive. Brian never uses profanity, discusses politics, or suggestive content. Brian Atkinson's comedy is so funny, you won't even notice he's working clean. He's more than a nightclub comic trying to watch his language.
Bookings
Booking a comedy show with Brian is easy. If you have access to a social hall, church, or country club, Brian will work with you to set up your event and guide you to give your audience the best possible experience. Whether it's a solo show or a showcase with multiple comedians, Brian Atkinson can produce a comedy show that you'll love and brag about later.
Read reviews.
Book a show with Brian