Brian Atkinson is a comedian, an all-around nice guy, and a horrible person. His good-guy persona gives way to surprising twists to keep you laughing. While his voice might be the first thing you notice, his confidence, and engaging storytelling will keep you coming back. He provided voices for PBS Kids and appeared in a Lifetime Movie Network movie, as a serial killer, in the same studio, on the same day. Brian Atkinson makes jokes, but only the finest artisan, hand-crafted, farm-to-table-saw jokes.
Brian Atkinson is a Comedian
Brian's sharp and smart comedic style has been a hit at clubs, contests, corporate events, churches, fundraisers, and festivals across the country. He has a hilarious professional touch that's a perfect fit.
Brian Atkinson has hosted, featured, and headlined at clubs, corporate events, churches, and fundraisers across the country. He's opened for notable "Bobs" like Bob Nelson, Bob Smiley, and Robert (Bob) G. Lee, and performed at Dr. Grins at the B.O.B. Brian has also opened for Jeff Jena, Kira Soltanovich, Happy Cole, Leslie Norris Townsend, Tommy Ryman, Chris Young, Andy Beningo, and Dave Williamson.
Brian is a 2023 World Series of Comedy Wildcard 1st Place Winner. His appearances include Bonkerz, Comedy Cabaret, Crackers, Dr. Grins, Funny Stop, Gutty's (Indiana and Minnesota), Krackpots, Mark Ridley's Comedy Castle, One Night Stan's, Punchlines, Gilda's Laugh Fest and the World Series of Comedy. Brian won the Audience Favorite in The Funniest Person in Grand Rapids contest.
Born and raised in Chicagoland, Brian calls Grand Rapids, MI home.
Use this Email Sign Up form to get show updates.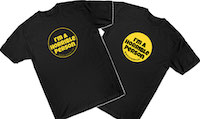 Merchandise and T-Shirt catalog.
BR>
BR>
BR>
BR>
Bookings
Booking a comedy show with Brian is easy. If you have access to a social hall, church, or country club, Brian will work with you to set up your event and guide you to give your audience the best possible experience. Whether it's a solo show or a showcase with multiple comedians, Brian Atkinson can produce a comedy show that you'll love and brag about later.
Read reviews.
Book a show with Brian
Or, contact me to get started.
Social Media
Be sure to follow me on social media! @BrianAcomedian on most of 'em.
Facebook
Instagram
YouTube
TikTok
More Sides of Brian Atkinson