Bring your family! Bring your friends! A night of clean comedy with Brian Atkinson and friends – Philadelphia Style! At Marple Presbyterian Church, Saturday 12/28 – 7pm.
Featuring Leslie Battle, Dwayne Brake, and hosted by Ryan Roe. One night, one show! Come to the Marple Presbyterian Church fellowship hall in Broomall, PA for a great night of clean comedy – B.Y.O.B.
$10 tickets
On the Marple Presbyterian Church site, enter $10 for each ticket you wish to purchase, and follow the prompts to enter your payment information. The church will have your tickets at the door. Reserve soon, this show will sell out!
For additional ticket information, please contact: marplepc@gmail.com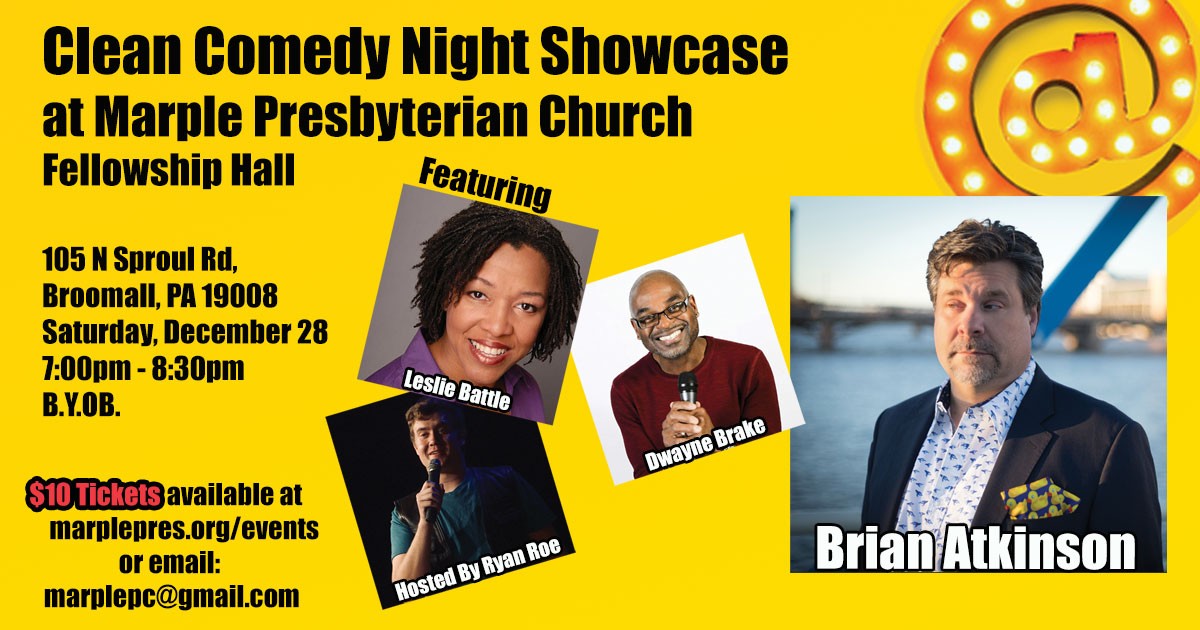 Brian Atkinson is a comedian, voice actor, singer, and former radio personality. Brian commands the stage with his voice and confident, engaging storytelling. His good guy persona occasionally gives way to blunt and unexpected twists. Brian's sharp, smart comedic style has been a hit at clubs, contests, corporate events, and festivals across the country including Bonkerz in Orlando, Crackers Indianapolis, Comedy Cabaret Philadelphia, Dr. Grins Grand Rapida, One Night Stan's Detroit, Punchlines, Sunday Night Funnies, The Funny Stop Cleveland, and Gilda's Laugh Fest. Brian was a Semi-Finalist in The 2019 Funniest Person in Grand Rapids contest and is a co-founder and host of Clean Comedy Time.
Leslie Battle is a Texas native who began her comedy career after an 'uncivilized' divorce. She has performed since July 2011, on stages throughout the Midwest and beyond. Her contest titles include Columbus (Ohio's) Funniest Person, Winner: Crackers Comedy Club Open Mic Contest in Indianapolis, IN, and this year she placed in the top 101 comics in the World Series of Comedy Main Event.
Comedian Dwayne Brake is "Smooth!" This New Jersey native began digging his comedic roots in Philadelphia's comedy club venues in 2001. The steady grind in front of both urban and mainstream audiences has helped shape his humor, and the result has been material that has proven to be clever, creative, and smart. Dwayne considers himself fortunate to have had his style of comedy appreciated in comedy clubs from Massachusetts to Florida. He was chosen to perform as one of the featured comedians in the 2015 and 2016 McDonald Gospelfest showcases, and proudly delivers jokes that are funny, relatable, and unapologetically clean. You will enjoy the comedy of Dwayne Brake.
Originally from Philadelphia, Ryan Roe performs everywhere, including opening for Michael Jr. on his "More Than Funny" nation-wide tour. He's acted on shows such as CBS's "Young Sheldon," and Showtime's "I'm Dying Up Here." Ryan has worked for late night hosts Conan O'Brien, Jimmy Kimmel, James Corden, and Seth Meyers. He's performed in festivals all around the country including the Big Little Comedy Festival in San Antonio, the New York City Sketch Fest, and Philly Sketch Fest. His new comedy album and special "Brotherly Love" is out now on youtube, spotify, apple music, etc.