The local graduations and parties have taken priority, sadly our show is canceled. We hope to reschedule as soon as possible.
Clean Comedy Time presents Chris Young at The Legacy at Hastings, Saturday, June 10, at 8pm. It's a Clean Comedy Time showcase hosted by Brian Atkinson, featuring Dany Redwine and Kim Cook.
Clean Comedy Time
Clean Comedy Time gathers terrific comedians, performing their clean material, for audiences at shows, events, and fundraisers. We team up with talented local and national comics to provide a diverse and relatable lineup for each experience. Clean Comedy Time shows are all about the F-Words: Funny, For Adults, and Free From Foul language and topics. Most shows are appropriate for grown-ups but sometimes your kids may need to explain things to you.
Headliner – Chris Young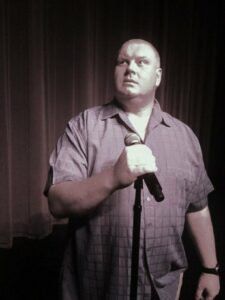 You've seen Chris Young at comedy clubs, colleges and casinos as well as corporate shows nation-wide. He has appeared at the Gilda's LaughFest in Grand Rapids, MI the Laughing Skull Festival and the Canton Comedy Festival. His DryBar Special has millions of views. He was the winner of the TV20 Detroit "That's Funny" Comedy Contest on My Network, as well as a finalist in Dave Coulier's "Clean Guys of Comedy/Unbleepable Contest." Chris is also a favorite on radio stations all across the country.
Chris Young is able to take real life experiences and turn them into laughs that maintain a clean but funny appearance. Chris's luck (or lack thereof) have lead him to look at the world through a different set of glasses. Having once been called a pessimist by a fellow classmate, he replied simply, that he is not a pessimist but a optimist, as he believes things could not get any worse!
Featuring Dany Redwine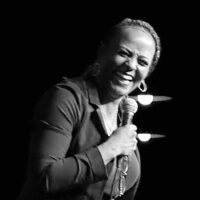 Born in Grand Rapids Michigan, Dany Redwine took to the stage in 2014, just one year after being diagnosed with ductal carcinoma. Her comedy is edgy and honest about her experience with cancer and living life on her own. She is a bright personality with a positive outlook. Dany has featured for several popular comedians like Adam Ferrara, Eddie Griffin, Gary Owen and many more. Dany has preformed in New York, California and all around the Midwest. Make sure you check her out.
Featuring Kim Cook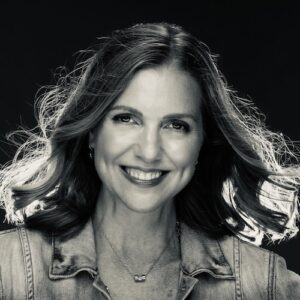 Kim Cook is a quick witted southerner who now resides in Grand Rapids, Michigan. She also has the last name of something she does not do well. Kim loves discussing her British husband, being a dog mom and topical events. She is a Second City alum and has performed at Zanies, Coral Gables Comedy Club, Gilda's LaughFest, Plano Comedy Festival, The Annoyance Theatre, The Comedy Arena and Hyena's Comedy Club to name a few.
Hosted by Brian Atkinson
Clean Comedy Time Founder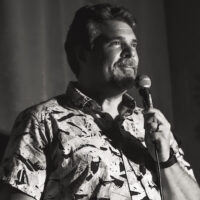 Brian Atkinson is a comedian, an all-around nice guy, and a horrible person. His good-guy persona gives way to surprising twists to keep you laughing. While his voice might be the first thing you notice, his confidence, and engaging storytelling will keep you coming back. Brian has provided voices for PBS Kids while also appearing in a Lifetime Movie Network movie, as a serial killer, in the same studio, on the same day. Brian Atkinson makes jokes, but only the finest artisan, hand-crafted, farm-to-table-saw jokes. Brian's sharp and smart comedic style has been a hit at clubs, contests, corporate events, churches, fundraisers, and festivals across the country. He has a hilarious professional touch that's a perfect fit – without being offensive. Brian never uses profanity, discusses politics, or suggestive content. Brian Atkinson's comedy is so funny, you won't even notice he's working clean. He's more than a nightclub comedian trying not to swear.
The Legacy at Hastings
Since 1921, golfers have been challenging themselves on The Legacy at Hastings, a classic West Michigan premier golf course. The Legacy features long fairways with smooth and fast greens, surrounded by towering stands of hardwoods, and beautiful panoramic views. Where golf is fun and everyone is welcome. The Legacy provides an atmosphere where everyone is made to feel special. Groups of all sizes are welcome and we are happy to create the perfect atmosphere for any event. With affordable memberships, "Frequent Play" cards, and daily "walk on" greens — see why everyone is talking about The Legacy at Hastings!
The Legacy at Hastings
1550 N. Broadway
Hastings, MI 49058
Tickets
Legacy at Hastings Tickets
Facebook Event
Comedy Night at The Legacy