Brian Atkinson performs at the Home Forever Masquerade and Costume Gala fundraiser for The Humane Society of Bay County, Friday, October 27 at the DoubleTree by Hilton Hotel Bay City, Grand Ballroom. The gala begins at 6:00pm and the comedy should start around 8pm. Brian will also be the MC for the fundraiser to follow.
The Humane Society of Bay County
The Humane Society of Bay County, a registered 501(c)(3), was formed in November 1984 by a group of concerned citizens who recognized a need within our community. Since that time, the organization has acted as the animal advocate in our community. Your support continues to be our inspiration as we look forward to a future of improved welfare for all animals.
Celebrate saving lives of animals in Bay County at the HSBC Home Forever Gala!
We hope you'll join us this year on October 27th for an elegant Masquerade and Costume Gala! This is a great opportunity to dress up in your best costume, have fun, and make a difference. All proceeds raised at the event go towards the Mission of the Humane Society of Bay County.
This is more than just a night of fun – it's also an opportunity to support a meaningful cause. Your participation will help us provide critical services to animals in need. Be sure to invite your colleagues, friends, and family! Although costumes are not required, we encourage you to dress in your best costume, or masquerade! There's a costume contest and we will announce winners during dinner! We look forward to seeing you there.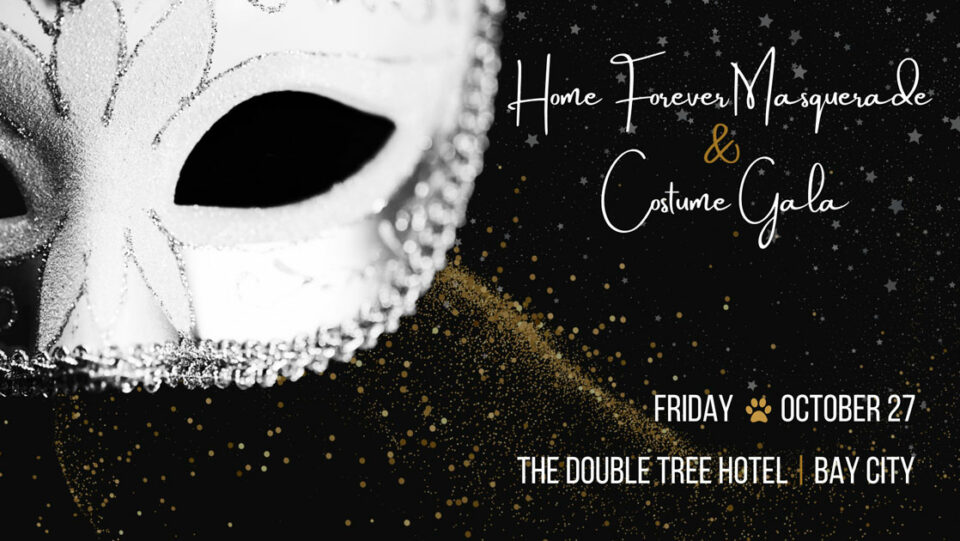 Brian Atkinson
Brian Atkinson is a comedian, all-around nice guy, and a horrible person. His good-guy persona gives way to surprising twists to keep you laughing. While his voice might be the first thing you notice, his confidence, and engaging storytelling will keep you coming back. Brian is a 2023 World Series of Comedy Wildcard 1st Place Winner and has provided voices for PBS Kids while also appearing in a Lifetime Movie Network movie, as a serial killer, in the same studio, on the same day. Brian Atkinson makes jokes, but only the finest artisan, hand-crafted, farm-to-table-saw jokes.
Brian Atkinson is a Comedian
Brian's sharp and smart comedic style has been a hit at clubs, contests, corporate events, churches, fundraisers, and festivals across the country. He has a hilarious professional touch that's a perfect fit – without being offensive. Brian never uses profanity, discusses politics, or suggestive content. Brian Atkinson's comedy is so funny, you won't even notice he's working clean. He's more than a nightclub comedian trying to watch his language.
Bookings
Booking a comedy show with Brian is easy. If you have access to a social hall, church, or country club, Brian will work with you to set up your event and guide you to give your audience the best possible experience. Whether it's a solo show or a showcase with multiple comedians, Brian Atkinson can produce a comedy show that you'll love and brag about later.
Read reviews.
Book a show with Brian