Brian Atkinson is opening for the hilarious Michael Palascak at the Park Theatre in Holland, MI on Thursday, November 9.
Brian Atkinson
He's not a serial killer, but he played one on TV. Brian Atkinson is a comedian, an all-around nice guy, and a horrible person. His good-guy persona gives way to surprising twists to keep you laughing. While his voice might be the first thing you notice, his confidence, and engaging storytelling will keep you coming back. Brian is a 2023 World Series of Comedy Wildcard 1st Place Winner and has provided voices for PBS Kids while also appearing in a Lifetime Movie Network movie, as a serial killer, in the same studio, on the same day. Brian Atkinson makes jokes, but only the finest artisan, hand-crafted, farm-to-table-saw jokes.
Michael Palascak
Michael Palascak is a comedian who grew up in Wabash, Indiana, began his career in Chicago and now resides in LA. He performed on both The Late Late Show with James Corden and The Late Show with Stephen Colbert in the same year. In addition, his resume includes A Little Late with Lilly Singh, Letterman, The Tonight Show with Jay Leno, The Late Late Show with Craig Ferguson, Conan, has a Comedy Central Half Hour special, and was a Top 5 Finalist on Last Comic Standing where one judge claimed, "My first impression of Michael was a great likability. This is a guy that could star in a sitcom."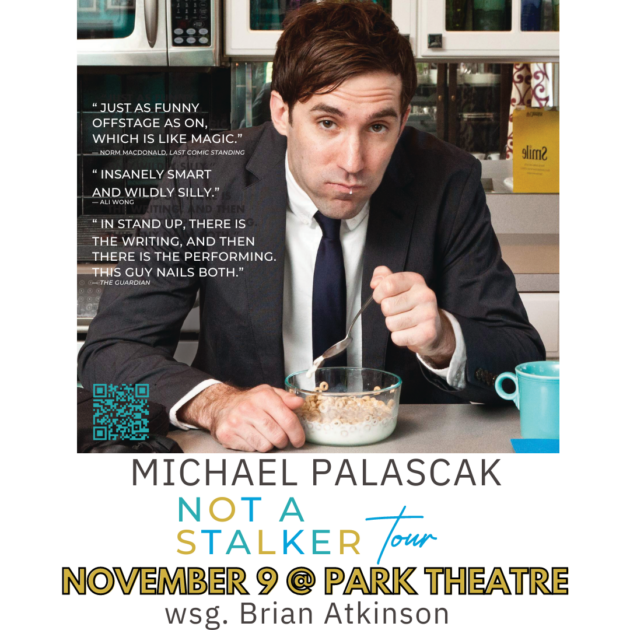 Park Theatre Holland, MI
The Park Theatre Foundation provides West Michigan communities with entertainment and culture while empowering artists, championing self-expression, and preserving the historic Park Theatre. With a rich history dating back to 1886, the Park Theatre has been a cherished venue for generations of movie-goers and community events. Originally built as a woodworking mill and feed store, it later became the Colonial Theater. Destroyed in a fire and rebuilt, it reopened as the Park Theatre in 1936. For over six decades, the Park Theatre thrived as a beloved cultural hub, eventually closing in 1984. In December of 2001, the Park Theatre Foundation, a newly created nonprofit organization, took over ownership of the building, and a new chapter began.
Today, the Park Theatre has been lovingly restored and transformed into a flexible, multi-use venue that serves as a vibrant cultural center for the downtown Holland community. Collaborating with diverse segments of the community, the Park Theatre has hosted a wide range of events, from concerts and receptions to comedy troupes and dinner/theater productions. Nonprofit fundraisers, reunions, and birthday parties have also found a home at the Park Theatre, and the theater has been a sought-after space for festivals such as Tulip Time, Tulipanes, and various art fairs, providing a unique and captivating backdrop for showcasing local talent.
Park Theatre
248 S. River Ave.
Holland, MI 49423
Brian Atkinson is a Comedian
Brian's sharp and smart comedic style has been a hit at clubs, contests, corporate events, churches, fundraisers, and festivals across the country. He has a hilarious professional touch that's a perfect fit – without being offensive. Brian never uses profanity, discusses politics, or suggestive content. Brian Atkinson's comedy is so funny, you won't even notice he's working clean. He's more than a nightclub comedian trying to watch his language.
Bookings
Booking a comedy show with Brian is easy. If you have access to a social hall, church, or country club, Brian will work with you to set up your event and guide you to give your audience the best possible experience. Whether it's a solo show or a showcase with multiple comedians, Brian Atkinson can produce a comedy show that you'll love and brag about later.
Read reviews.
Book a show with Brian