Brian Atkinson is hosting the comedy show at the National Baby Food Festival in Fremont, MI Thursday, July 20 with Drew Harmon and friends.
For one night only in Fremont, Michigan, Comedian Drew Harmon is performing in his hometown for the very first time ever! Drew has performed at clubs and comedy festivals all over America, and he's coming to the National Baby Food Festival with a crew of some of his favorite Michigan comics. Admission is completely free! Show is rated PG-13 – it won't be raunchy but there may be some mature themes and the event is not advised for younger children.
The show also features:
Robyn Gilleran
Jason Gilleran
Ned Rice
and
Hosted by Brian Atkinson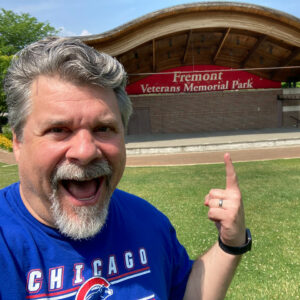 National Baby Food Festival
July 19 – 22, 2023 The National Baby Food Festival is full of family fun and a celebration of children that is Fremont's one-of-a-kind National Baby Food Festival (NBFF). The city of more than 4,000 is transformed for one week each July into the Family Fun Capital showcasing Fremont as a great place to LIVE, WORK, & PLAY!
Drew Harmon
Drew Harmon is a comedian and former TV weatherman from Fremont, Michigan. While living in San Francisco, Drew became a regular at the Punch Line and has appeared at comedy festivals like SF Sketchfest, Gilda's Laughfest and the Asheville Comedy Festival. Drew also created the popular show, "I Think I'd Be Good At That" where a person who has never done standup before headlines a comedy show, which has also been featured as part of SF Sketchfest.
Brian Atkinson
Brian Atkinson is a comedian, an all-around nice guy, and a horrible person. His good-guy persona gives way to surprising twists to keep you laughing. While his voice might be the first thing you notice, his confidence, and engaging storytelling will keep you coming back. Brian is a 2023 World Series of Comedy Wildcard 1st Place Winner and has provided voices for PBS Kids while also appearing in a Lifetime Movie Network movie, as a serial killer, in the same studio, on the same day. Brian Atkinson makes jokes, but only the finest artisan, hand-crafted, farm-to-table-saw jokes.
Brian Atkinson is a Comedian
Brian's sharp and smart comedic style has been a hit at clubs, contests, corporate events, churches, fundraisers, and festivals across the country. He has a hilarious professional touch that's a perfect fit – without being offensive. Brian never uses profanity, discusses politics, or suggestive content. Brian Atkinson's comedy is so funny, you won't even notice he's working clean. He's more than a nightclub comedian trying to keep it clean.
Bookings
Booking a comedy show with Brian is easy. If you have access to a social hall, church, or country club, Brian will work with you to set up your event and guide you to give your audience the best possible experience. Whether it's a solo show or a showcase with multiple comedians, Brian Atkinson can produce a comedy show that you'll love and brag about later. Read reviews.
Book a show with Brian