Brian Atkinson performs a Comedy Night at Fifth Reformed Church in Grand Rapids, MI on Thursday, October 19, with special guest, Kim Cook.
Fifth Reformed Church
Free hot dogs before the show.
Free childcare during the show - donations accepted for Fifth student ministries trips.
Free comedy show - donations accepted for Mulick Park Elementary School.
Fifth Reformed Church is a Christ-centered, multi-generational community with many young families. Though we're a denominational church, we feel more like a community church because there are people from many different backgrounds. We're a church focused on learning to live, love, and lead like Jesus. Jesus rooted his life in his relationship with God and lived from that identity. Jesus invested in a group of friends that grew into a spiritual family who joined him in his work. And Jesus engaged the larger world with mercy, justice, healing and teaching. In this way, Jesus lived a three-dimensional life – Up with God, In with others, and Out with a world in need. We are committed to be a church who does the same.
Free Admission
Hot Dogs and such at 6:00pm
Show doors open at 6:45pm
7:00pm Show Time
2012 Griggs St. SE
Grand Rapids, MI 49506
Brian Atkinson
Brian Atkinson is a comedian, all-around nice guy, and a horrible person. His good-guy persona gives way to surprising twists to keep you laughing. While his voice might be the first thing you notice, his confidence, and engaging storytelling will keep you coming back. Brian is a 2023 World Series of Comedy Wildcard 1st Place Winner and has provided voices for PBS Kids while also appearing in a Lifetime Movie Network movie, as a serial killer, in the same studio, on the same day. Brian Atkinson makes jokes, but only the finest artisan, hand-crafted, farm-to-table-saw jokes.
With Special Guest, Kim Cook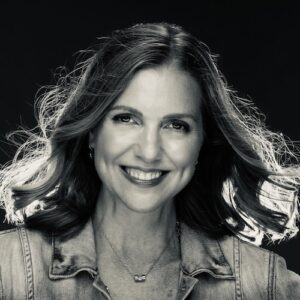 Kim Cook is a quick witted southerner who now resides in Grand Rapids, Michigan. She also has the last name of something she does not do well. Kim loves discussing her British husband, being a dog mom and topical events. She is a Second City alum and has performed at Zanies, Coral Gables Comedy Club, Gilda's LaughFest, Plano Comedy Festival, The Annoyance Theatre, The Comedy Arena and Hyena's Comedy Club to name a few.
Brian Atkinson is a Comedian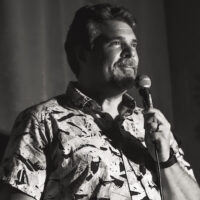 Brian Atkinson
Brian's sharp and smart comedic style has been a hit at clubs, contests, corporate events, churches, fundraisers, and festivals across the country. He has a hilarious professional touch that's a perfect fit – without being offensive. Brian never uses profanity, discusses politics, or suggestive content. Brian Atkinson's comedy is so funny, you won't even notice he's working clean. He's more than a nightclub comedian trying to watch his language.
Bookings
Booking a comedy show with Brian is easy. If you have access to a social hall, church, or country club, Brian will work with you to set up your event and guide you to give your audience the best possible experience. Whether it's a solo show or a showcase with multiple comedians, Brian Atkinson can produce a comedy show that you'll love and brag about later.
Read reviews.
Book a show with Brian